Longtime Instructor at Towson Y Wows Students at Age 73
Posted On July 7, 2017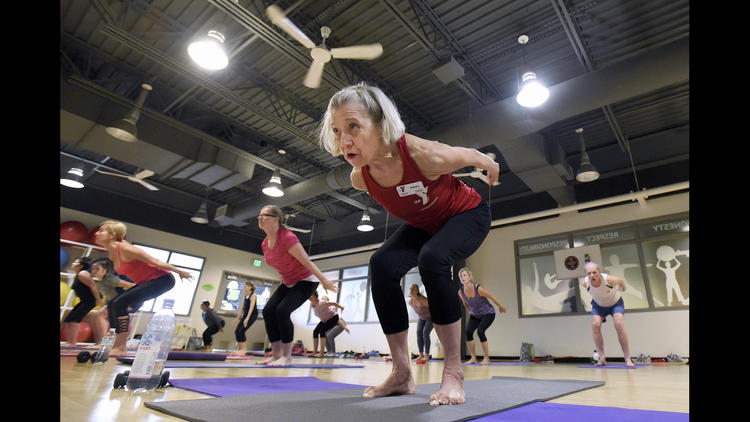 Originally published in the Towson Times on June 21, 2017.
---
"Curl. Roll. Give me first position, legs at 90 degrees. Now 60. Thirty." For an hour, the diminutive Pilates instructor at the front of the packed class calls out commands in a loud and controlled voice. While instructing and bellowing messages of encouragement to the class, she demonstrates each exercise in perfect form, even as participants occasionally wince, flounder or flop on their mats in exhaustion.
At 73, Towson resident Barbara Schuler is older than most of the exercise enthusiasts she's been instructing at the the Y in Towson for the past 35 years. But it's clear that she's not slowing down. Just ask Erin Rothwell, a 40-year-old Towson mother of two who works out daily, was a college athlete and considers herself in fairly decent shape.
The first time Rothwell walked into a Friday morning barre class (a low-impact form of exercise that combines principles of Pilates, yoga and ballet) at the YMCA and glimpsed Schuler, she admits to having reservations about the class. Surely someone of Schuler's age couldn't lead a decent workout, she thought. Then class began, and Rothwell quickly changed her mind. "Twenty minutes into the class, she [Schuler] was correcting my form," Rothwell said. "I was shaking and wobbling. I couldn't keep up with what she was doing. … She was awesome."
Being pleasantly — or perhaps overwhelmingly — surprised seems to be the general consensus among members of the Y who have tried Schuler's classes. Just as surprising is how Schuler came to be one of the oldest and longest-standing instructors at the community fitness center. Schuler wasn't an athlete or a dancer as a child, as one might expect by looking at the lithe, lean instructor. The only exercise she got growing up in Dundalk was walking a mile to and from the school bus stop, Schuler said. Later, as a student at the Catholic High School of Baltimore, she got a taste of performing in front of an audience as a member of the drama, glee and a cappella clubs. Schuler was in her mid-30s before she was introduced to the concept of formal exercise.
Schuler was dating someone at the time whom she says was a fitness buff. He suggested he accompany her to the Towson Y. "The weight room looked out onto the gym," Schuler recalled. "There was an aerobics dance class going on," It piqued her interest, so one evening she joined the class. Before long, the head of the group fitness program at the Y noticed that Schuler, who'd become a regular in the aerobics classes, had picked up the dance sequences quickly. She asked Schuler if she'd like to become an instructor. The rest, as they say, is history — one that's taken some surprising turns.
Back in the "old days," recalls Schuler, the Y required that instructors have routine "weigh-ins" and prove their physical fitness by running a mile-and-a-half around the perimeter of the campus, multiple times a year. "We all dreaded it," Schuler said with an eye roll. Another requirement was to maintain certification through a recognized aerobic organization. One year, at the annual American Aerobics Association International conference in Baltimore, Schuler decided to try something new. Instead of learning more about aerobics, she went to a three-day yoga workshop that she says changed her life.
"I realized you don't have to work at a high-impact level to get fit," she said. "After two years of yoga, I stopped teaching aerobics entirely."
In 2011, she retired after working in the court system for 40 years, most recently as a judicial assistant for former Chief Justice Joseph F. Murphy Jr., judge for the Court of Appeals, 2nd Appellate Judicial Circuit. "After 40 years, I told Judge Murphy I had done it all, seen it all," Schuler said.
Even so, she still works three days a week as Murphy's administrative assistant at the Baltimore law firm he went to work for upon his own retirement, Schuler said. "I enjoy it. I like to work. I'm not a homebody. I want to get up and go to either a job, or go teach," said Schuler, a divorced mother of one grown son.
She now teaches group exercise classes several times a week at the Towson Y and the Y in Parkville. She leads classes in barre, yoga and Pilates, a system of exercises developed by Joseph Pilates, a German gymnast and body builder born in 1883, which focuses on awareness of breath, alignment of the spine and strengthening the deep torso and abdominal muscles. "I'm stronger and more flexible than I've ever been," Schuler said of gentler forms of exercise that rely on the body's own weight as resistance that she practices. So too are those who faithfully attend her classes.
Schuler shares the story of a man who comes to her barre and Pilates classes regularly. Recently, he showed her a picture of himself when he was 80 pounds heavier, adding that he was that weight before he started coming to her classes. "It's so inspiring to know that I'm making a difference in his path of fitness," Schuler said. The inspiration flows both ways.
"She's a great example for us all," said Melissa Cahill, a fitness coach and group exercise instructor at the Y who's been taking Schuler's Pilates classes for several years. She admits to being a tad jealous when initially entering Schuler's class. "She's 20 years older than me, and I couldn't do what she could do," Cahill said. "That inspired me to stick with it." Others feel similarly. Schuler "always looks great and she makes me want to work harder." Rothwell said. "Her age is irrelevant. She's just a fit person."
Her somewhat stern and serious demeanor during class does not deter many students, Schuler believes. "They may say I'm tough," she said. "But they keep coming back." Having made a lifelong commitment to fitness, Schuler said sees no reason to slow down. Aside from some nagging tears in her rotator cuffs, which she says have healed through physical therapy, Schuler reports no health problems.
"I get a lot of hugs from teaching," she said.
Photo credit: Steve Ruark