Two-Sport Wonder
Posted On October 4, 2018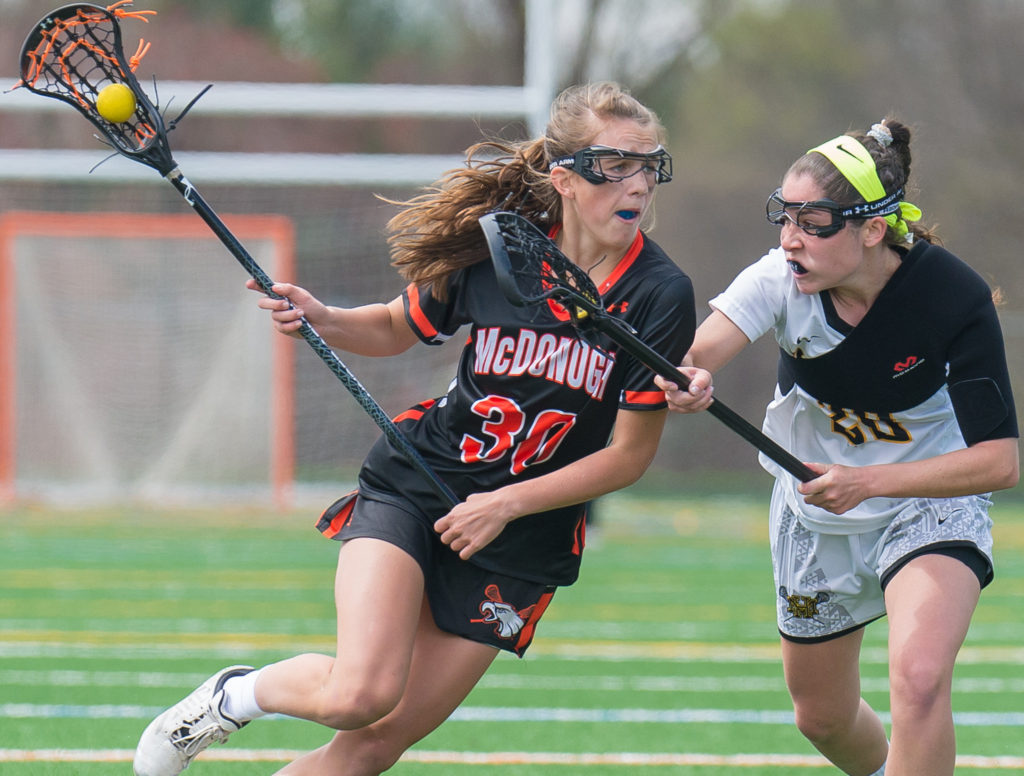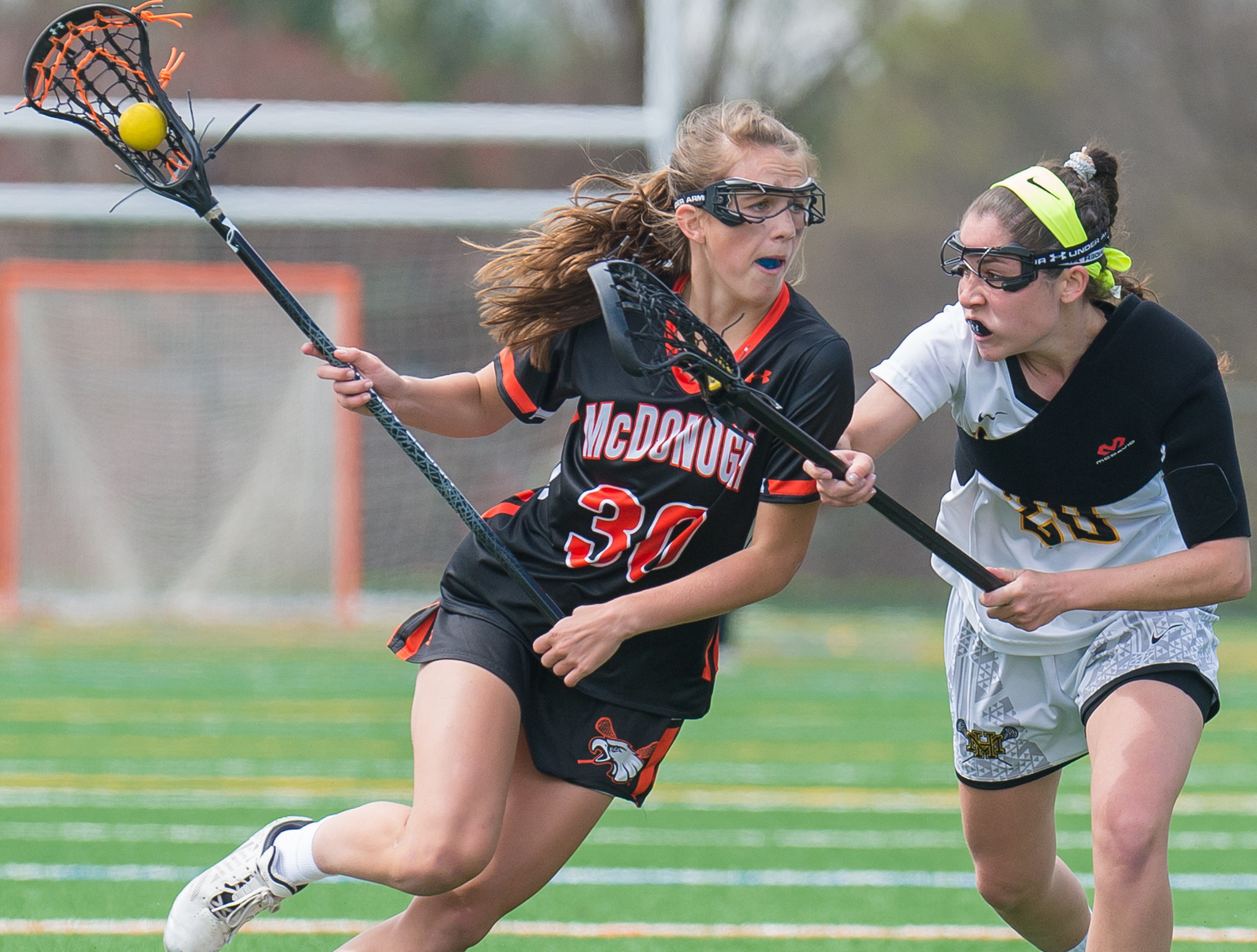 Originally published in the Towson Times on September 5, 2018.
---
Of the nearly 8 million high school athletes in the United States, only a small fraction — about 2 percent — will earn a college athletic scholarship, according to the National Collegiate Athletic Association. Then, there's Towson native Julia Dorsey, a rising 12th-twelfth grader at McDonogh School. She falls into a category of high school athletes so unique that statistics reflecting her circumstances don't even exist.
Dorsey has been recruited to play both lacrosse and soccer at the University of North Carolina at Chapel Hill, a Division I athletic powerhouse. Extraordinary talent and commitment on two different playing fields have earned her this rare place in the world of collegiate athletics. That she's managed to navigate the youth sports culture on her terms, not succumbing to the push so many young athletes feel to "specialize" in a single sport, makes Dorsey's feat even more remarkable.
Her parents, Van and Jessica Dorsey, credit the flexibility of their daughter's youth coaches with allowing her to excel in two sports. She's also had the good fortune of attracting interest from a rare top-flight collegiate athletic program that has successfully supported other female two-sport collegiate athletes. But Dorsey doesn't seem too interested in how she got to this point. She's focused mainly on doing what she knows: playing two sports she loves to the best of her ability.
An early start                             
Dorsey's foray into formal sports began when she was 6 or 7 six or seven years old. She played for the Lutherville-Timonium Recreation Council (LTRC) travel soccer team under the tutelage of her father, Van Dorsey, who remained her soccer coach through eighth grade. The lengthy tenure of Dorsey's father as her coach speaks to the success of this particular parent-as-coach relationship, which can be can be fraught with tension.
But Dorsey proclaims that having her dad as her coach created a positive impact on their relationship, on and off the field. "My dad's probably my biggest role model," said the 18-year-old, who added that she never felt her father treated her differently from than other players on the field.
The relationship appears to have been a win-win. "Coaching was a way to connect with my kids," said Dorsey, who also coached his older daughter, Anna, in youth sports. He says he never set specific athletic goals for her. "We said, 'We're just going to see where it goes,'" he reflected.
Opportunities soon presented themselves. In sixth grade, Dorsey earned a spot in the prestigious U.S. Youth Soccer Olympic Development Program (ODP). It exposed her to high-level competition; in eighth grade, she and her ODP teammates played three games in Costa Rica against professional soccer players from the Central American country. "It was really cool," Dorsey said of the game, which she recalls as pretty evenly matched.
Playing for OPD also exposed the young athlete to her first taste of college recruiting. She recounts several dozen college coaches lined up on the sidelines of an OPD soccer game. —when she was in eighth grade. "It was weird," Dorsey said, of the attention given to an eighth-grader.
While her prowess on the soccer field continued to grow, Dorsey also dabbled in other sports. She played recreational and travel basketball for Towsontowne, then on McDonogh's junior varsity team, and tried a brief stint at a year-round swim club. Laughing, she recalls moving her limbs "super fast" in the water, but going nowhere.
Also, like many Baltimore-area children, Dorsey started playing lacrosse at a young age. "I wasn't very good," she said matter of factly. And even though she said she liked soccer better at the time, in sixth grade she tried out for an area club lacrosse team. She didn't make it, possibly because she had to miss some of the tryouts for a soccer commitment. Maybe it was fate.
A rare find
Soon after getting cut from that team, Dorsey tried out for Sky Walkers, another local girls' lacrosse club. She made the team, for which she continued to play until this summer (eligibility ends after junior year of high school). A few years later, she joined another elite club team: the Bethesda Soccer Club, for whom she still plays. While many other competitive programs discourage or even outright preclude teens from playing on other club sports teams, these two didn't. "The support she got from both club teams was essential to where she is now," said Dorsey's father.
Michael McLaughlin, founder of Sky Walkers, believes kids benefit from playing multiple sports. "From a foundational standpoint, playing multiple sports is better. You're using different muscles, using different methods of playing, and learning different things from different coaches," he said. "Any college [lacrosse] coach will tell a player that if she's able to play multiple sports in high school, she'll end up becoming a better lacrosse player."
The same is likely true for other sports. And yet, playing multiple sports competitively during childhood is becoming increasingly rare, even more so at the collegiate level. Anson Dorrance, head coach of the women's soccer program at the University of North Carolina at Chapel Hill, addresses the college's unusual, and inclusionary, history. "I've always felt that at UNC, we have a really unique environment," he said.
Dorrance credits former Dean Smith, longtime former -term UNC men's basketball coach who led the program to two national championships, for promoting the collegial environment of the school's athletic program. "He embraced everyone. He would treat his lowliest manager with the same respect as he would Michael Jordan [who played for him]," Dorrance said. "When I was a young coach, he used to invite me to watch his practice sessions." As a result, explained Dorrance, "We're not territorial with the athletes. We share players, and both programs benefit."
Commitment, in good times and bad
Following in the exceptional footsteps of two-sport Division 1 athletes like Maggie Bill, a member of UNC's high school recruiting class of 2013. UNC women's soccer and lacrosse teams requires not only extreme talent, but also laser-focused commitment to whichever sport is being played at the moment.
"When in season, McDonogh lacrosse trumps everything else," Dorsey said. "When McDonogh lacrosse ends, I'm all Bethesda [her club soccer team] until mid-June." Then it's on to club lacrosse, followed by McDonogh soccer. "It's crazy. I don't know how I do it," she said, a smile spreading across her face suggesting that, despite the seeming craziness, it's entirely her choice.
Dorsey's also entirely committed, according to those who know her well. "One hundred percent effort, 100 percent of the time. She's one of the hardest working kids I've ever coached," said Harry Canellakis, Dorsey's soccer coach at McDonogh.
Playing smart is as important as playing hard. "When opportunities strike, Julia takes full advantage," Sky Walkers' McLaughlin said. "All other times, she's looking at the game from the perspective of the team, asking herself: What can I do to help?"
Staying dedicated gets a lot tougher when an athlete is sidelined from playing the game she loves. Dorsey found that out last fall when, playing soccer, she tore her anterior cruciate ligament (ACL), which stabilizes the knee joint. Dorsey makes no excuses for why the injury happened, attributing it simply to overuse. Rather than bemoaning the situation, she seems to have learned from it, saying the requisite post-surgery rehab has made her stronger. "And now, I'm more aware of my limits," said Dorsey, whose sidelining injury did not impact her scholarship status with UNC.  
Last spring, Dorsey's post-injury limitations kept her out of an entire high school lacrosse season. She was forced to sit on the bench as her team fought unsuccessfully to defend its unprecedented 198-game winning streak. "She desperately wanted to get in the game that they lost to Notre Dame Prep," said her father. Perhaps knowing that she has plenty more games to play — both lacrosse and soccer — made it easier for Dorsey to accept.
"She's a throwback in the sense that you don't see many elite athletes playing multiple sports these days," said McDonogh's Canellakis. "In an age of specialization, Julia is gifted enough to say specialization isn't for her."
Photo credit: Baltimore Sun