Senior Softball Players Still Have Game
Posted On May 1, 2018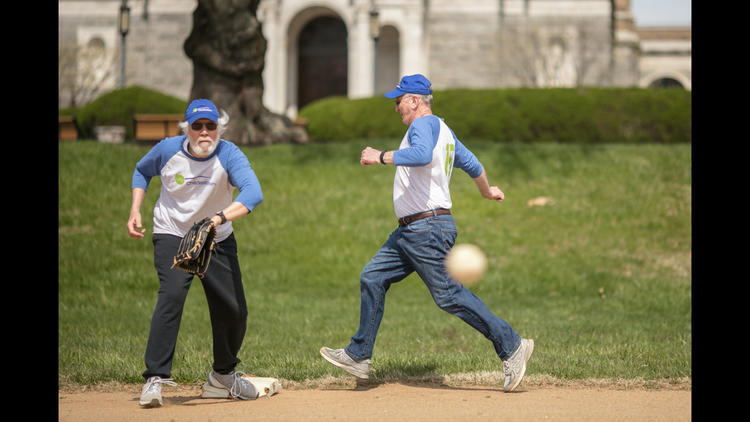 Originally published on Baltimoresun.com on May 1, 2018.
---
It's 9:50 a.m. on a picture-perfect Monday in April. Softball practice starts in 10 minutes. But already, the players have gathered on the field. One runs a few laps up and down the left field line. Others do a few stretches in place. The defensive players take their spots in the field, and the first batter steps up to the plate. Batting practice begins, and soon the satisfying "ping" of ball against metal bat can be heard ringing through the air. On one particularly hard-hit ball, the third baseman deftly makes a one-handed catch, throwing it easily over to first base.
The Charlestown Sluggers, resident softball team of Catonsville's Charlestown Retirement Community, practice twice a week during the spring to prepare for the annual Erickson Living Softball Tournament, which pits teams from four area retirement communities against one another: Parkville's Oak Crest, Silver Spring's Riderwood, Northern Virginia's Greenspring and Catonsville's Charlestown. This year, the tournament will take place at Charlestown on Wednesday, June 6.
The home-team advantage, coupled with a particularly strong squad, has the players optimistic about their shot at a win. "We've got the best team we've ever had: defense, offense, hitting. I think they're going to have to answer to us this year," said Walt Plitt, the Charlestown Sluggers' 87-year-old pitcher, a founding member of the team who claims to have started in each of the past 14 annual tournaments. Like others on the team, Plitt isn't the youthful player he once was. He readily admits he's not as fast as he used to be, especially after a knee replacement. He's endured losses in his life — most notably that of his wife, whom he refers to as his "right hand." But he stays engaged, working part time at a funeral home, exercising daily at Charlestown and continuing to enjoy activities like playing ball. Plitt's active lifestyle appears to be paying off: He's trim, quick-witted and exudes a healthy competitive streak.
Benefits of staying active
Communities like Charlestown, one of 19 continuing-care retirement communities managed by Erickson Living, make it easy for seniors to maintain an active lifestyle. The 2,000-plus residents can choose from more than 300 social groups, ranging from bocce ball to gardening to bingo and, of course, softball. Charlestown wellness manager Teresa Reymann-Curran oversees an onsite fitness center that offers 35 classes per week and employs three trainers who work one-on-one with residents. The abundant activity options represent more than mere perks for residents.
An active lifestyle helps keep seniors healthy. "Physical activity is extremely important for seniors to maintain their mental alertness and muscle strength," said Seton Medical Group President Dr. Ken Williams, a primary-care physician who treats many seniors in his practice. "Participating in team sports like softball will also decrease the risk of depression, which is common among the elderly."
Despite the well-documented benefits of staying active, the Centers for Disease Control and Prevention asserts that, by age 75, about one in three men and one in two women engage in no physical activity. Built-in activities like softball teams at retirement communities make it much easier for seniors to get regular exercise, maintain social connections and enjoy the later years. Unlike Plitt, who says he's played ball on teams continuously throughout his adulthood, other members of the Charlestown Sluggers appear to be enjoying a resurgence of their youth.
Glory days
Third baseman James (Jim) Mallon is 75, but he plays with the grace and strength of a much younger man. He makes scooping up balls and firing them to first base look easy. Clearly, he's retained some of his youthful talent, although it's been a long time since he's been on a competitive team, Mallon recalls playing on a semi-pro team in the summer between high school and college. He says that at least one of his former teammates, including the late Del Ennis, made it to the pros (Ennis played most of his career as an outfielder for the Philadelphia Phillies). The current competition may not be the same, but that's OK with Mallon. Now, he says, he's in it for the friendship.
Charleston Sluggers coach Bob Nitche, who stepped in to take over the team after the sudden and recent loss of their longtime coach Bert Clegern, doubles as the team's first baseman. Though he says he hasn't played since his days in the Army, the 75-year-old still has an athletic build and a strong arm. "I love it," he said of playing on the team. "We're gearing up for the big game."
And the big game it is; the annual tournament is the only competitive undertaking for the Sluggers. The team played some scrimmages in the past but doesn't have plans to do so this year.
At 63, Mary Wright is probably the youngest player on the team. One of four female teammates, Wright's towering height and natural athleticism make her a clutch outfielder. She just moved into Charlestown last year and says that as soon as she got settled into her new apartment, she began to explore group activities. After the two-hour softball practice, she was planning to head over to the Arbutus Recreation Center, where a mix of Charlestown residents and seniors from the Arbutus community at large play pickleball, a paddle sport that combines elements of badminton, tennis and table tennis. "I've adjusted. Now I'm getting involved in whatever I can," she said.
Wright's attitude is typical of seniors when sizing up their retirement options, says Dan Dunne, spokesman for Charlestown. "They want to come to a place where they are able to engage," he said. While one morning softball practice provides a glimpse of that engagement, Dunne says it can't compare to the day of the annual tournament where, from 8 a.m. to noon, resident fans will line the entire hill overlooking the field, rooting for their home teams, enjoying a cookout and connecting with friends. "It's a big party," he said.
Photo credit: Nate Pesce
http://www.baltimoresun.com/news/maryland/baltimore-county/community-times/ph-ca-at-charletown-sluggers-0502-story.html