Chatham Club in Pikesville smaller, but still going strong after all these years
Posted On December 22, 2017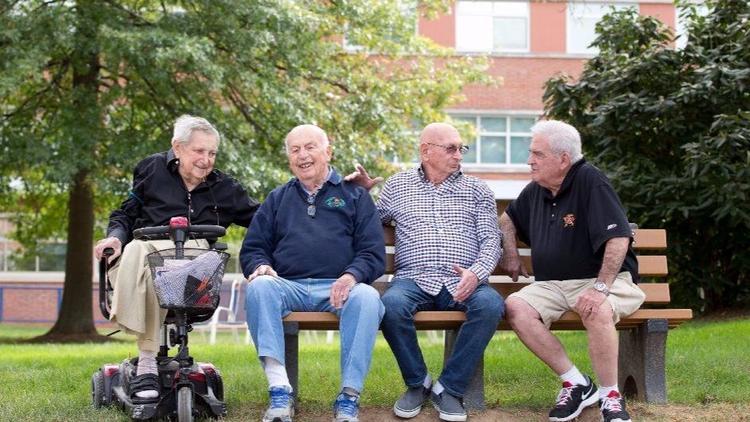 Originally published in Baltimoresun.com on December 11, 2017.
---
On a Thursday morning in October, with coffee brewing in the background, five old friends gather at a small conference room at the senior community residence North Oaks in Pikesville, where some of them now reside. They reminisce about good times past and present and ponder the future of The Chatham Club, the men's-only club that they and other members before them have nurtured since its launch in 1946. They also share the story of the club's inauspicious start.
It was the summer of 1946, and a group of 11 young men from Baltimore, some of them having just returned from serving in their country's military in World War II, planned to meet at a local pool to socialize and unwind. But when they reached the gate, they realized they weren't welcome. "There was a sign at the entrance that said, 'No Jews and no dogs.' That's what I remember," said Don Erdman, the sting of anger still evident in his voice all these years later.
Rather than allow their encounter with anti-Semitism to fester, the young Jewish male acquaintances decided to form a members-only club of their own.
In the beginning, the 11 founding members — all of whom are now deceased — would meet regularly at the home of Morris Carliner, who lived on Chatham Road. Unable to decide on a name for the club, they eventually settled on the Chatham Club. Early on, the club initiated a few formalities. They charged $5 a month for dues and developed some governing rules. They decided that club meetings would start formally, with the officers leading the agenda to discuss relevant business and upcoming events. The meetings were followed by lively games of poker. Ninety-seven-year-old Marvin Solomon, a past president nine times over and a club member since 1955, describes the early days as a discussion club, whose poker games were dominated by kibitzing.
Bernie Segal, another veteran Chatham Club member seated around the table at North Oaks, shared his own recollection of meetings during the club's heyday. "We had the biggest, rowdiest card games with the least amount of money exchanged," he said with a laugh. "It was low stakes, with plenty of excitement."
Bound by brotherhood
After all these years, it's the camaraderie and good times that continue to resonate with the club members. Unlike some local organizations, the purpose of the Chatham Club does not revolve around charitable giving. "We all have charities that we give to. We've never as a group focused on charity," Solomon said. For these men, the club is an opportunity to bond with other members. But it does not present an open invitation to do so.
Perhaps it's because of the rejection the formative members experienced at the swimming pool entrance. Whatever the reason, members of the Chatham Club have never openly advertised membership to their group. The club has no website, nor is there a phone number listed publicly. Admission to the club, which boasted 55 members at its peak, occurs only when an existing member recommends someone he knows, perhaps a neighbor or a relative, to join.
"Marvin invited a close friend of his, who then invited his brother-in-law, who happened to be a close friend of mine, who brought me in," Segal said, explaining how he became a member.
Over the years, the members of the Chatham Club had great fun and created fond memories together. They went on local fishing trips, occasionally overnight to Tilghman's Island. They formed a bowling league. They indulged in crab feasts — originally at Gunther's Brewery, then at the Belvedere Hotel and other locations around town. They became loyal season ticket holders of the Baltimore Colts during their tenure in town. They even organized trips to Italy, Israel, Iceland and other far-flung places.
They held social affairs, sometimes black-tie events, to which they invited spouses and girlfriends. (Most of the club members are widowers now, but back in the day … "After the meetings we would smoke cigars," Solomon said. "The ladies [wives of whoever hosted] said, 'No more.'" That's when they moved their meetings, for a time, to the Edward Myerberg Senior Center.)
Hanging on
Today, the Chatham Club's membership is about 20 — less than half of what it was at its peak. Some members don't feel comfortable driving at night; others no longer drive at all. So rather than meeting weekly, they get together once a month, at North Oaks. Members who drive pick up those who don't. But still they gather, some with walkers, canes or even wheelchairs.
Arthur Romm, the "baby" of the group, is about to turn 81. He and Erdman, the current president, keep things moving along. The members may not take the types of trips they used to or play poker into the wee hours of the morning, but they continue to enjoy one another's company. Perhaps most importantly, they still laugh a lot.
"We try to throw humor into the meetings," said Romm, who presents a spoof-like athletic report at each meeting. He provides a few examples of his report: "We have a track team. We do the 3-yard dash," he said. Romm also talks about getting swamped in hockey by a pre-kindergarten team. His favorite? Chatham Club got beat 51 to 1 — by the Little Sisters of the Poor. At this admission, Romm's face appears to break into a grin, and the others sitting around the table chuckle.
When the laughter subsides, the men discuss how instrumental the club has been in their adult lives, feeling like an extended family of sorts. They remark on how today's men don't make the time for the camaraderie that groups like the Chatham Club provide. They're working longer hours, or their kids participate in too many extracurricular activities for them to slip away for a few hours of fun in the evening. With their youngest member an octogenarian, the members would like to keep the Chatham Club going but haven't hit on a strategy.
As for the current members, they're just happy they made the time for the club.
"We're hanging on by a shoestring, but we're doing the best we can," Erdman said.
Photo courtesy of Jen Rynda / Baltimore Sun Media Group