Cutting-edge Tracts Lead Way as More Local Residents Take up Agriculture
Posted On September 25, 2017
Originally published in the Baltimore Sun on August 17, 2017.
---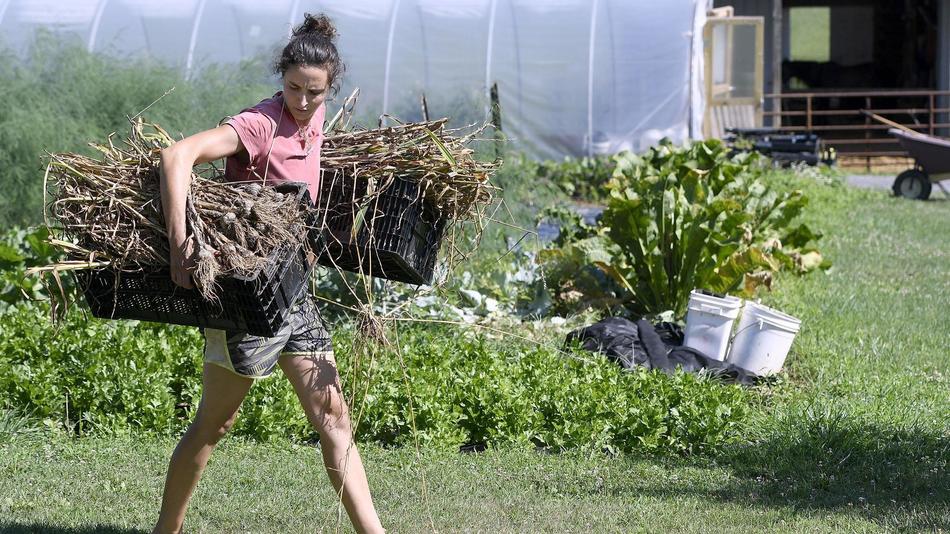 It's not quite 9 a.m. and already the sun is glaring overhead when Jess Beck greets the reporter with a firm handshake … and bare feet. She and her mother, Cathy Marsteller Cooper, momentarily stop harvesting ripe, pesticide-free tomatoes to talk about their 32-acre farm in Freeland.
Beck, a preschool teacher-turned-full-time farmer as of 2016, represents the fifth of six generations on the family farm; her 7- and 9-year-old daughters make up the sixth.
The farm produces a majority of the family's food — up to 80 varieties of produce plus pork, eggs and poultry. They sell to local restaurants and at a stand at the top of their street. The family home's enclosed front porch also contains stocked shelves and a refrigerator bursting with in-season produce for sale on a self-serve basis.
About 15 miles from Marsteller Farm, Carin Celebuski and her husband, Vince Matanoski, transplants from Silver Spring, plan to live out their dream of doing, in Celebuski's words, "something more outdoorsy." Her husband recently retired from the Department of Defense; she quit her government contractor job and earned a horticulture certificate from University of Maryland's Institute of Applied Agriculture.
Back to the earth                                                                                                                                                        These two families in rural Baltimore County came to farming via very different pathways. But their shared passion for the farming life and enterprising nature have led them both to discover resources — local and distant — to help them grow. They are joined by an increasing number of local residents interested in pursuing similar businesses-slash-lifestyles.
Dena Leibman has witnessed firsthand the uptick in farming interest among local residents. She runs the Cockeysville-based nonprofit Future Harvest — Chesapeake Alliance for Sustainable Agriculture (FHCASA). The organization aims to build stronger, more sustainable farms throughout Maryland, Virginia, West Virginia, Delaware and the District of Columbia by providing education on farming, hosting farming conferences and connecting farmers with resources.
"There has been an explosion of interest in farming," she said. "It's [farming] the perfect confluence of art and science. It's really attractive to people." She also attributes the local food movement with the growing interest in farming. And while farmland in Maryland continues to decrease, it's declining far more slowly than in past years. From 2007 to 2012 (the most recent period for this data collection), Maryland lost the least amount compared with every previous census collection since 1987 —25,874 acres, or 1.2 percent of all existing farmland in 2002.
Beck, Celebuski and Matanoski have enrolled in the beginning farmer program. In addition to learning agricultural strategies ranging from crop production to business plans, the newly minted farmers received an added, unexpected bonus from the program: connections that have led to the receipt of financial incentives for farm expansion and increased sustainability.
Beck's program mentor, Elisa Lane of Hampstead-based Two Boots Farm, told her about a $5,000 grant distributed by The FruitGuys, a San Francisco-based organization that provides grants to small farms nationwide.
Beck applied for the grant, and Marsteller Farm became one of just 10 farms nationwide to receive it this year. With the funds, the farm is constructing a 30-by- 96-foot-high tunnel. Similar to a greenhouse, the tunnel allows farmers to extend the growing season and diversify crops.
"FruitGuys has an interest in helping farms become more sustainable," Beck said. "We don't have extra cash sitting around to build a high tunnel. We would not be capable of doing this without help. When you're small and starting out, you need somebody that's going to invest in you."
Celebuski learned about a generous offer of support while attending a Future Harvest-sponsored lecture by Rob Schnabel, a restoration scientist with the Chesapeake Bay Foundation (CBF), about converting commodity farms intopasture. Celebuski told Schnabel that she and her husband wanted to convert 80 acres from commodity crops intopasture. Soon, Ladybrook Farm was set to receive 2,000 native trees, courtesy of the CBF-managed Carbon Reduction Fund.
One such project was an Earth Day tree-planting event at Ladybrook Farm. WGL Energy employees accounted for about half of the 100 or so volunteer planters who showed up at the Monkton farm on a Saturday in April to dig holes and plant 1,200 native trees.
Another 800 trees were planted in October 2016, also courtesy of the Carbon Reduction Fund. Along with the cost of the trees, the fund pays for three years' worth of tree maintenance.
The trees, explains Celebuski, were planted mostly along the wooded edges of the couple's property, heading on a downslope toward a creek. "They're [trees] holding in water that would go into the Little Gunpowder, which flows right into the Chesapeake Bay," she said.
The trees also minimize sediment runoff, which is harmful to bodies of water, from flowing into the bay. Also, over time, explains Schnabel, the canopy created by the growing trees will keep the stream's water temperature cooler — critical to the trout that live there.
"We want to work with any landowners interested," Schnabel said.
Other organizations are eager to support local farmers, too. The quasi-public corporation Maryland Agricultural and Resource-Based Industry Development Corporation, or MARBIDCO, formed in 2004 largely to help sustain and grow Maryland's farm businesses.
Since the organization's inception, it has benefited Baltimore County farms by funding 13 projects; awarding 10 grants totaling $131,033; and providing loans of $514,000 for projects including a vineyard installation and the purchases of horse and vegetable farms.
The University of Maryland Extension (UME) is yet another resource for new and established farmers. The statewide system, within UM's college of Agriculture and Natural Resources and the University of Maryland Eastern Shore, has offices in every county of Maryland. Shannon Dill, an educator with the UME's Talbot County office, said of its services, "We provide hopefully the most research-based and unbiased information farmers can get."
For Beck of Marsteller Farm, that dream includes living off the land and teaching her children to do the same. With what the family grows, Beck needs to make trips to the grocery store only about once every six weeks. She's taught her daughters how to clean and cut garlic. They've helped birth pigs.
"I feel like, as a society, people are too disconnected from their food," Beck said.
Photo courtesy of Steve Ruark.
http://www.baltimoresun.com/news/maryland/baltimore-county/north-county/ph-nc-cutting-edge-farms-20170817-story.html