Weber's Cider Mill Farm Means Fall Fun
Posted On August 11, 2019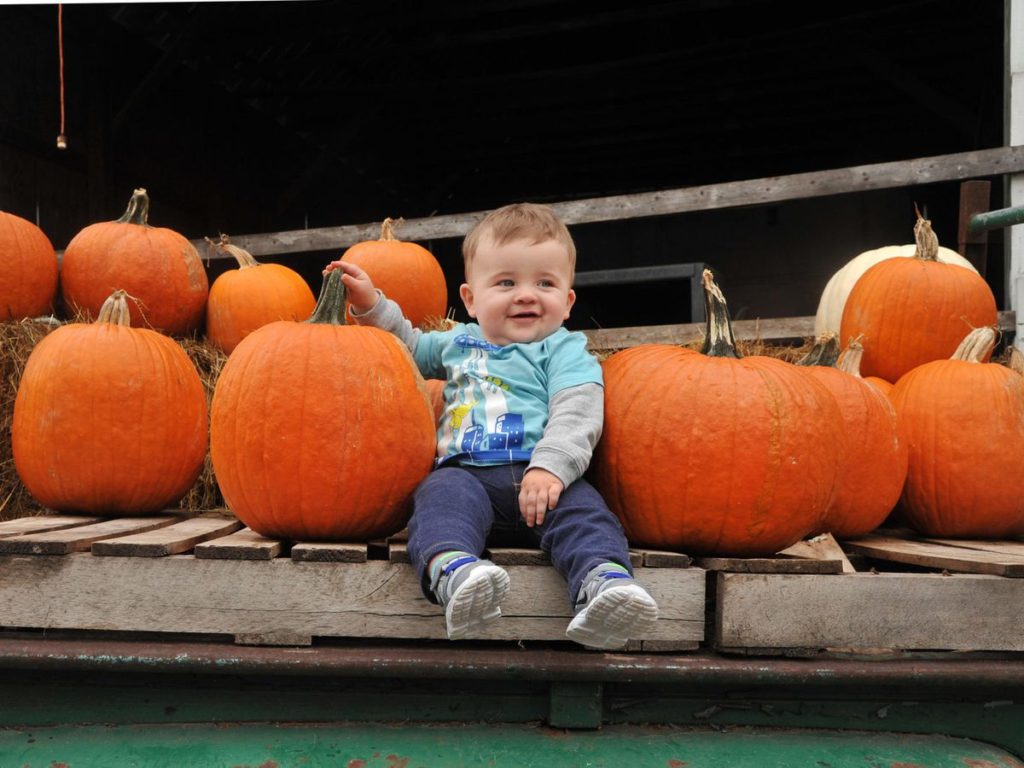 Originally published on October 17, 2018
On a drizzly Thursday morning in late September, Weber's Cider Mill Farm is relatively quiet. A few toddlers and preschool-aged children have the run of the place, getting close to the barnyard goats and chickens without having to jockey for position with the hordes of visitors that overrun the Parkville destination on sunny fall weekends.
But behind the scenes, it's anything but a slow day for Jo-Ann and Steve Weber, third-generation proprietors of this family-owned and operated business that, over the years, has become for local families synonymous with the celebration of autumn and its beloved traditions, including pumpkin-picking, maze-running, apple cider-swilling and the like.
The extraordinary amount of effort that goes into running the 14-acre farm and its abundant autumnal offerings cannot be underestimated. Steve Weber, who along with Jo-Ann, his wife, took over the farm in 1971, says that for the few months between the start of school and Thanksgiving, the operation staffs up from around 20 employees to 90. That includes family members and long-term employees, many of whom return year after year to work during the farm's busiest season. As for the more minimal staff, headed up by Jo-Ann and Steve Weber, it's a year-round commitment.
Asked why, after 47 years of the intense work required to keep the operation going, he and his wife continue to run it when most people their age are firmly ensconced in retirement, his response was simple. "We love it," said Steve Weber, a tall, tanned man whose trim physique and healthy appearance suggests many years spent working outdoors. He did acknowledge that they have toyed with the idea of retirement, but their customers have asked them not to. In the near future, the Webers' son, Steve Jr., an attorney, will be coming on board to play a lead role in the business.
That should ensure the continued family tradition of Weber's farm, which dates back to 1908. When the family began farming their tract of land in Parkville over a century ago, it originally boasted 100 acres. In the farm's early days, according to Steve Weber, family members would harvest and haul their produce by horse and wagon into the city to be sold. In 1947, the family added a new and lasting dimension to its farm when they bought Runkle's Company Cider Mill.
Bringing fresh apple cider to its customers remains an integral part of the Webers' operation: Theirs is the oldest cider mill in continuous use in Maryland, producing about 30,000 gallons of cider annually. Visitors can buy the fresh-pressed cider at Weber's Farm Market, where its sweet, fresh aroma is evident even before spotting containers of it neatly lined up on the shelves.
Walk into The Farm Market at Weber's and it's easy to imagine the work that goes into stacking and exhibiting the numerous displays that line the walls and fill the floor in an attractive feast for the eyes. A quick scan of the light-filled market shows gourds of all shapes and sizes; rows upon rows of mums; pumpkins overflowing in large bins; homemade pies, jams, relishes; and Halloween decorations. As Thanksgiving approaches, Weber's expects to sell about 3,500 apple pies and 800 turkeys, raised on the Parkville premises. The business also grows and sells produce out of its nearby Weber's PeachBerry Farm in Glen Arm, where visitors can pick their own fruit in season.
"The great part of this is that we're growing stuff," said Steve Weber, who eagerly discusses the process behind doing so, including a quick lesson on how they arrive at new varieties of apples on their farm. Currently, the market sells eight distinct types. By late fall, he says, they'll add about 12 more. He also gives a nod to the Crimson Crisp apple, which he says is one of the most popular apples this season.
The smallest visitors to Weber's Farm likely haven't developed the palette to distinguish between various types of apples. They're much more interested in hayrides, barn animal sightings, scarecrow making and other fun activities that draw families to the landmark destination each fall.
Though she lives just a few miles from the farm, Cockeysville resident Anna Spahn had never been to Weber's before that overcast Monday in September. But it was her 3-year-old son Camden's birthday, and she wanted to do something special for him. So Spahn, Camden and his grandfather, John Kriven-Venko, braved the ominous forecast for some fall fun.
The two adults trailed the little boy as he ran from one barnyard animal to the next. ISpahn predicted that the visit to Weber's wouldn't be their last.
Commercial farms like Weber's that offer both fresh produce and family-centered fun activities are front and center in the "agri-tourism" movement, and have become increasingly popular over the years. The Baltimore County Tourism website lists eight family-friendly farms throughout Baltimore County, from Parkville to the northern part of the county, open seasonally.
"It's a good way to attract families; we're all about families," said Marjorie Hampson, director of the Baltimore County Office of Tourism and Promotion. " It's a fun day out on the farm. And since it's fall, it's a good time to pick apples, pumpkins and enjoy cooler temperatures."
Whether it's fresh-pressed apple cider or the promise of a hayride that gets families out to farms such as Weber's, Steve Weber suggests that all visitors reap the benefits of connecting with nature once they arrive. He mentions having once met a professional in the psychology industry who touted our need for the "harvest connection," which refers to humans' innate desire to connect with nature and its bounty.
"It kind of makes sense, you know?" Weber said.
Photo credit: Baltimore Sun