Getting on the Water, Even When You Don't Own a Boat
Posted On September 30, 2016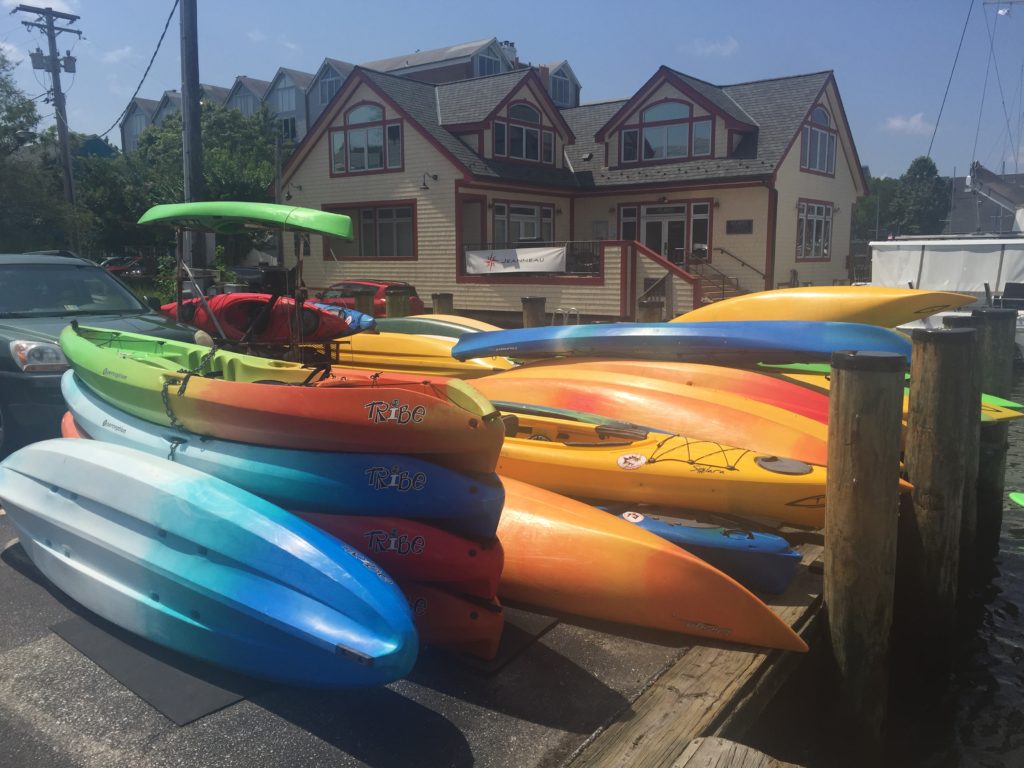 Originally published on Explorerannapolis.com
---

From the very first time I stood at the top of Main Street in historic Annapolis, taking in the view to the end of the street where the brick meets the harbor, I was envious. Seeing boats rocking gently in the harbor and gliding in the open water beyond, I wanted in. Sure, the scene from where I stood was awesome, but it wasn't enough to satisfy me. I wanted to be a part of it, if only for a short time. I wanted to get on the water.
A landlocked suburbanite from nearby Baltimore, I've never owned a boat. No one I know has a boat, except my sister and her husband—a Severna Park native who lived on his 40-some foot sailboat alone before acquiring as permanent passengers my sister, their two daughters, and a cat. Now they all live happily on the boat, but they're entrenched in island life in the Caribbean; not a convenient option for me. Besides, I wanted to experience being on the water right here in Annapolis. I'm happy to report that I got my wish. And if you come to Annapolis, you can too.
I didn't need to feel the power of a motorboat. And since I've never sailed, I thought I'd stick with something that required less skill. I chose to kayak, which requires nothing more than a little arm strength and some body awareness (so as not to tip over). My husband, who used to lead high school children on week-long kayak trips down Georgia's Okefenokee River, was up for the adventure. So too were my two teenaged children, who even awoke early from their usual late-morning weekend slumber on a Sunday morning in late July so we could beat the heat.
Finding surprisingly little traffic on I-97, the main corridor that connects Baltimore to Annapolis, we made it to Annapolis in no time. I knew we were close when we drove through downtown Annapolis and over the Spa Creek Drawbridge into Eastport. Pulling our car into the parking lot of Annapolis Canoe & Kayak (311 Third Street, Annapolis), we prepared to experience Annapolis on the water.
We were greeted by Dave Young, a fixture at the location since 1990, when he managed what was then Spring River Annapolis. In 2007, he took the reins as owner and manager, changing the name to Annapolis Canoe and Kayak. From the steady stream of business he welcomes and the friendly, professional way that he and his employees treat the customers, it's easy to see why the place is flourishing.
After guests fill out and sign a fairly extensive waiver (note: everyone under 18 must have a parent or guardian present to sign it), Dave and other staff members fit paddlers with the right vessel for their experience and size. And everyone gets a life jacket. Dave says they even have infant-sized life jackets, so there's no minimum age for paddlers.
After being fitted for paddles and lifejacket, we were ready to walk down to the floating dock where a tandem kayak was waiting for me and my husband. Before we even got into our kayak—assisted by two young, patient and cheerful employees—our two teenagers were in the water on stand-up paddleboards (SUPs) and headed up Spa Creek.
I took the front seat of the kayak. From experience, I knew that the stronger rower who's better at steering typically sits in the back. Plus, it meant I could enjoy an unobstructed view of all the activity and scenery before us.
Heading left as advised (less heavy boat traffic), we paddled under the Spa Creek Bridge and into fairly open waters. We decided against going into Annapolis City Dock, steering instead toward some quiet coves. We passed lots of other kayakers and paddle boarders getting in a Sunday morning row. I watched a heron take flight from a verdant lawn on the bank of Spa Creek, and spied a duck or two taking a morning dip. It seemed every house that fronted the creek was more quaint and beautifully landscaped than the next, and my mind wandered to lawn parties, weddings and other special events that would be perfect against such elegant backdrops. I snapped to attention when I realized our hour was half over, and we needed to start paddling back. We could have, by the way, stayed out longer, but with the heat and humidity soaring, we thought 60 minutes was plenty of time.
With the wind at our back, we made it back to the dock of Annapolis Canoe and Kayak in no time. We had unwittingly timed it perfectly, as there were no other passengers coming in or out of the dock. As I stepped gingerly out of the kayak, two of the outfitter's employees were there to lend a hand and whisk the vessel out of the water.
After retrieving our shoes from the dock where we'd stowed them, we sauntered up the walkway, hot and sweaty but invigorated, and headed into downtown Annapolis for lunch. As I walked by City Dock minutes later, a slow satisfaction came over me. Instead of longing to get on the water as I usually did when in downtown Annapolis, I was basking in the afterglow of having done so.