Fall Arts Guide 2018
Posted On September 1, 2018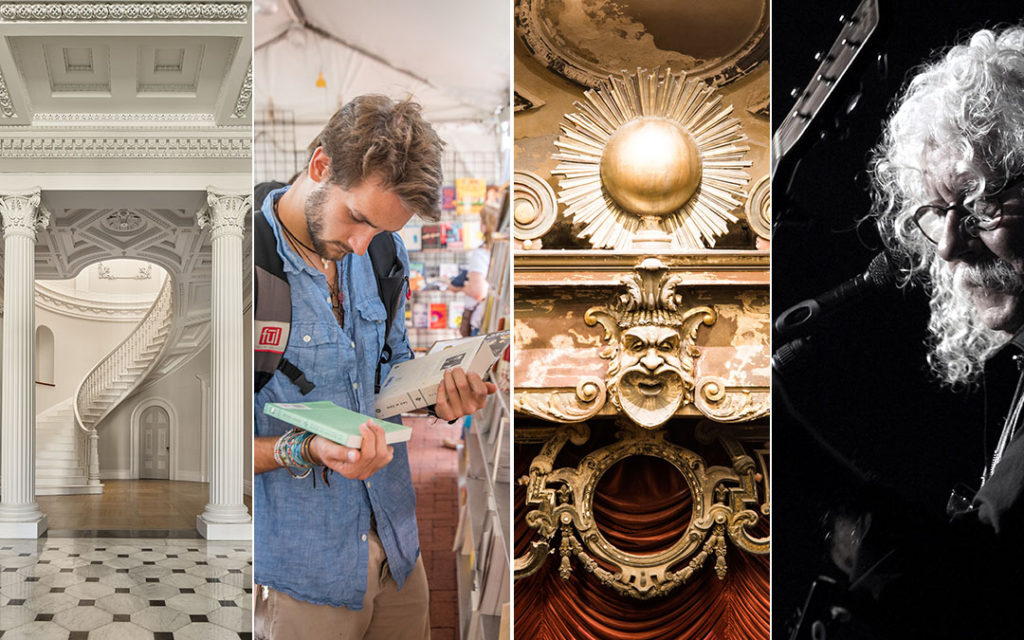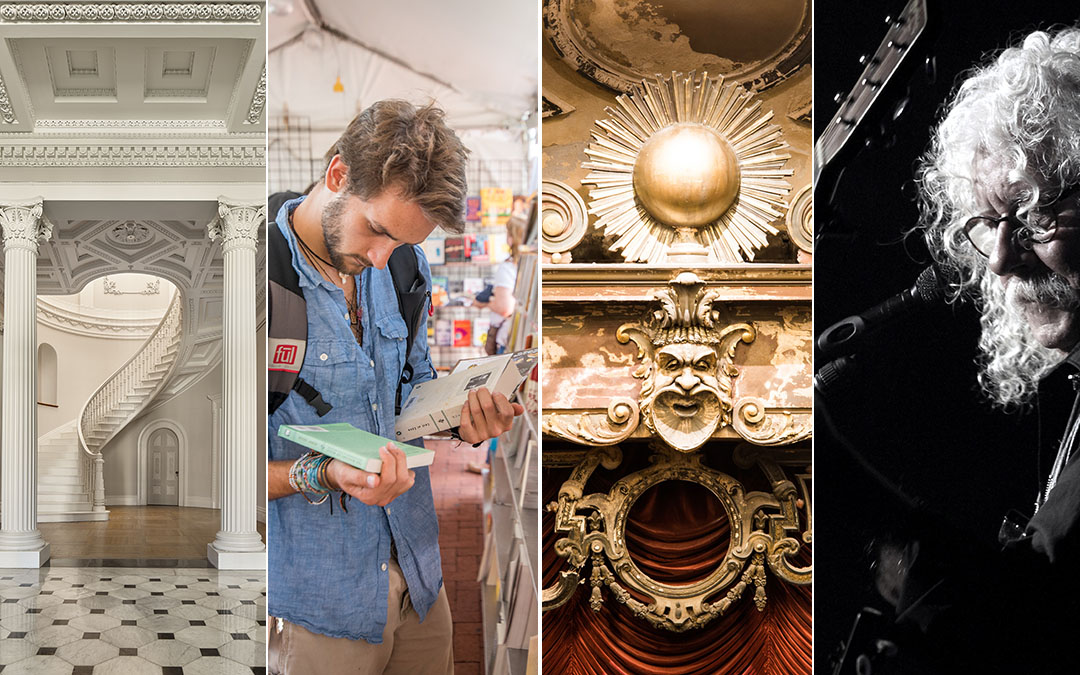 Originally published in Jmoreliving.com on September 1, 2018.
---
There's a lot to love about the fall.
The oppressive heat and the you-can-cut-it-with-a-knife humidity ease up; summer getaways have left folks feeling recharged and ready to socialize again; and the city's arts and culture scene responds with an abundant calendar of intriguing events and cool places to explore and rediscover.
The challenge now becomes not what to do, but how to fit it all in.
It's impossible to get to everything, of course. But for those willing to try, we've provided a full listing of local cultural events that span the fall season. We've also picked out a few cultural gems around town that we deemed worthy of special spotlighting.
Whether you'll be checking out these local landmarks for the first time or making a return trip, they're sure to leave a lasting impression.
Enjoy!
Read On!
More than three decades ago, then-Mayor Kurt L. Schmoke designated Baltimore "The City That Reads."
It didn't really stick.
But another citywide literary initiative, created almost a decade later, did.
The Baltimore Book Festival was the brainchild of Bill Gilmore, who recently retired from his long-term position as executive director of the Baltimore Office of Promotion and the Arts. Happening upon a book festival while vacationing in Edinburgh, Scotland, Gilmore decided to start a similar event here. Flash forward 23 years and the Baltimore Book Festival has become one of the city's signature fall happenings.
After outgrowing its original location in Mount Vernon, the festival in 2014 moved to the Inner Harbor, where the heavy foot traffic increases the likelihood of "accidental festival-goers," according to BOPA festivals director Kathy Hornig.
When the weather cooperates, she says the festival welcomes about 100,000 visitors over a three-day span (this year from Sept. 28-30).
The swelling crowds have a lot to experience: More than 100 exhibitors and booksellers set up shop for the event, and 225-plus authors present on eight outdoor stages. One of the headlining authors at this year's festival is certain to draw a big audience.
A.J. Jacobs, the esteemed writer, journalist and lecturer, will be at the festival to promote his latest book: "It's All Relative: Adventures Up and Down the World's Family Tree" (Simon & Schuster).
"You don't know me, but I'm your eighth cousin. And we have over 80,000 relatives of yours in our database." Apparently, Jacobs' receipt of an email containing this message set the New York native on a three-year quest to build the biggest family tree ever. It also resulted in his most recent book, which explores recent changes in family research and addresses the idea of global unity.
Hornig, who calls the book "really fascinating," says "It's All Relative" speaks to the breakdown of silos within society, a theme that should resonate with Baltimoreans and may provoke some interesting dialogue among festival-goers.
It's just this sort of thing that Hornig says keeps her so excited about the event.
"I'm such a passionate believer in books and the power of the exchange of ideas," says Hornig, who's been instrumental in every one of the city's book festivals to date. "I love to walk around and hear the discussions in the different tents. It's so important, especially now."
Visit baltimorebookfestival.com
Just Classic
If your idea of the perfect night out includes an intimate venue where you're up close and personal with legendary blues or folk musicians, or maybe even an all-acoustic jam session, then you're in for a treat this fall.
Make that multiple treats.
It's all part of the "Classic Rock Legends Series," an expanded musical lineup this fall at the Gordon Center for Performing Arts in Owings Mills.
Some music lovers may assume they have to go downtown or head to a nearby city to see well-known national music acts. Those who make this assumption are probably not familiar with the Gordon Center, whose senior artistic director, Alyson Bonavoglia, refers to it as "a hidden jewel."
"People who come here cannot believe they've never been here. There's not a bad seat in the house," Bonavoglia says of the 550-seat venue. A new lighting and sound system add to the venue's ambience. The Baltimore Sun recently ranked the Gordon Center as the "Best Acoustics" venue in the area.
Beyond the amenities that make a show at the Gordon shine, patrons appreciate the venue's convenience. There is plenty of free parking, creating a hassle-free experience for concert-goers.
"For a lot of people, it's the whole package. It makes [going to a concert] so much easier," Bonavoglia says.
The Gordon's customer-friendly mindset resulted in this fall's "Classic Rock Legends Series," something that organizers believe will appeal to the venue's diverse audiences.
When asked which acts she's most excited about, Bonavoglia responds much like a true music fan.
"I love the Travelin' McCourys," she says of the bluegrass band. "Then there's Graham Nash; that's going to be a great show. And I am so excited about Arlo Guthrie. He's actually touring with his extended family. You're going to see a lot of Arlo, but also his kids. It's a real family affair."
Peter Michaelson, the Gordon Center's senior director of theater and live music, is quick to remind folks that the venue offers more than live music for adults. It also features dance, comedy, lectures, films and a robust family music series.
"Everyone likes different acts and comes to shows for different reasons," Michaelson says. "We try to satisfy a diverse range of music and performing arts tastes. No one leaves disappointed."
Visit jcc.org/gordon-center
A Historic Encounter
A visit to 1 West Mount Vernon Place — the Walters Art Museum's newly refurbished mansion previously named the Hackerman House after the late philanthropist and businessman Willard Hackerman — might not be what you'd expect.
Yes, it's an exquisitely transformed 19th-century mansion that displays impressive paintings, sculptures and ceramics (the oldest object in the collection is more than seven millennia old). But experiencing 1 West Mount Vernon Place is about much more than simply viewing the gorgeous $10.4 million transformation of the home, with its intricate detail and stunning artworks. A tour offers a glimpse into its 170-year life span, which serves as a "micro-history" of Baltimore and the nation as a whole.
Eleanor Hughes, curator of the 1 West Mount Vernon Place project, makes it clear that the building's thoughtful and research-driven renovation was intended to display the house "as an object." As such, the exhibitions and decor showcase how people lived in the house, from owners to their servants, contributing to the robust experience that the mansion offers visitors.
Exhibit A? A delicate piece of ceramic art that sits behind a glass enclosure in the conservatory, one of the home's most breathtaking rooms. Pointing to the vessel, Hughes draws viewers' attention to a long crack on its surface, which has obviously been mended.
There's also an exceptionally beautiful Tiffany glass skylight, some of the most ornate plasterwork imaginable, an incredibly elegant spiral staircase and other elaborate flourishes throughout the home, as well as a letter written by Sybby Grant, an enslaved woman who cooked for the family of the home's first owner, Dr. John Hanson Thomas.
Grant's letter adds context to the story of 1 West Mount Vernon Place, as does the work of Roberto Lugo, a Philadelphia-based ceramics artist commissioned by the Walters to create art for the building. As an artist of color, Lugo says he typically sees objects at museums that seem like they "are made for someone else."
Grant was probably aware that the finer things in the home where she lived and worked were not intended for her pleasure. That's why Lugo created a set of plates with a monogram containing her initials. Visitors can observe the plates Lugo made to honor Grant displayed on a table in the house, appearing as if they're set for a dinner party for which she is guest of honor.
Exhibitions like this speak to an overarching goal of 1 West Mount Vernon Place, says Hughes. "We're testing new ways of interpreting and displaying art," she says.
Likewise, a free, digital app endeavors to appeal to contemporary museum-goers by providing them with opportunities to experience the mansion's art in its historical context through diverse voices and interpretations.
A community art project on display also showcases multiple perspectives. Spanning an entire room, a shimmering mosaic incorporates more than 200 decorated plates made by Baltimore residents of all ages, which were then fired and affixed to pieces of wood and stained glass by local ceramist and educator Herb Massie.
If this community art project inspires visitors to create their own works of art, there's an outlet for that. The building houses a "maker space" where visitors can create and display their own art.
However you choose to experience this local treasure trove, a visit to 1 West Mount Vernon Place is sure to inspire.
Visit thewalters.org/experience/exhibitions/1wmvp/
Cinephiles, Rejoice!
Called a "rescued ruin," the Stavros Niarchos Foundation Parkway Theatre is a cinephile's dream.
With its beautifully restored 414-seat historic theater and the addition of two smaller theaters — as well as the introduction of state-of-the-art projection and sound, a bar lounge and locally sourced concessions – the Parkway makes any movie experience extra special.
The eclectic, indie-style films shown at the Parkway reflect its location in the burgeoning Station North Arts and Entertainment District. The theater also serves as headquarters for the Maryland Film Festival.
"From the '50s through the '70s, the Parkway became known as an arthouse cinema, showing foreign and independent films," says Jessica Baroody, the Parkway's events manager. "John Waters likes to tell stories about when he went here and how it introduced him to the world of film."
The Parkway, which opened its doors at 5 W. North Ave. in 1915, thrived well into the 1970s, boasting at different stages in its history an organ, an orchestra and even a cameraman who captured local news.
But like many other theaters, the Parkway fell into disrepair and closed its doors in the late 1970s. After several years of dormancy, the theater was acquired by the Maryland Film Festival. With generous funding from the Stavros Niarchos Foundation and additional support from the state of Maryland and other private and public donations and partnerships, it reopened as the SNF Parkway in May of 2017.
Boasting a gleaming renovation and creative programming, the Parkway is set to inspire new generations of film lovers. With an eye on catering to diverse audiences, the theater includes offerings such as "Generation Parkway," a family-friendly film series, as well as free screenings that usually take place on the last Thursday of every month.
The Parkway also serves up its fair share of cult classics and is in the midst of one such run now. To honor what would have been the 90th birthday of late legendary filmmaker Stanley Kubrick, the theater is hosting a months-long retrospective of his work. Fittingly, the series will include a showing of Kubrick's "The Shining" on Halloween, Oct. 31.
But don't wait until then. There are plenty of movies you won't want to miss at the Parkway. "We do so much programming," Baroody says, "I can't keep track."
Visit mdfilmfest.com