Annie Milli Wants You to Live in the City
Posted On July 27, 2017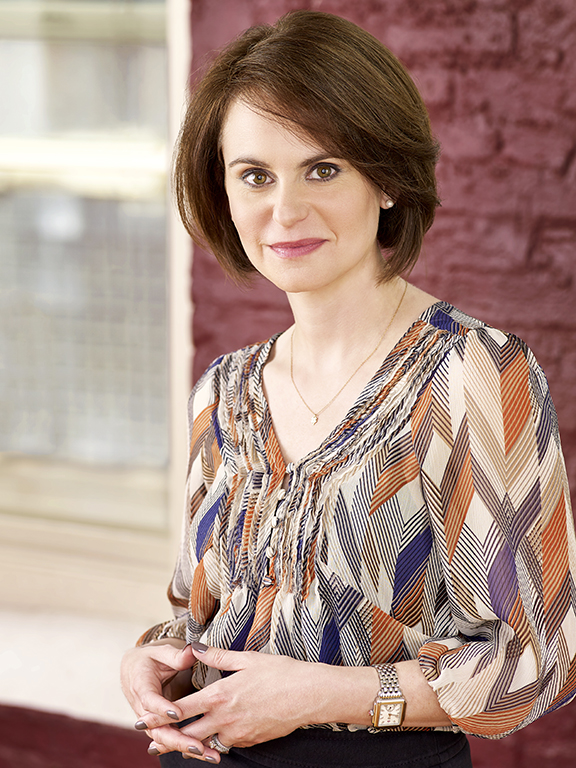 Originally published on Baltimorefishbowl.com on July 26, 2017.
---
Earlier this summer, 36-year-old Owings Mills native Annie Milli made the impressive leap from nonprofit Live Baltimore's marketing director to executive director. But when you consider Milli's intense work ethic and fierce love of Baltimore City, the shock of her rapid-fire professional trajectory eases.
Milli joined the workforce at the tender age of 14; she worked at Scoops, a candy shop in Owings Mills Mall. In college, while other students slept in, Milli would arrive at her 8:30 a.m. class after having worked a seven-hour shift at a local coffee shop. While carrying a full-time course load, she took over as general manager at the independent coffee shop before graduating from the Columbus College of Art and Design in Columbus, Ohio with a degree in Advertising and Graphic Design. For the next decade, Milli took on professional roles with increasing responsibility in design and marketing, most recently landing the top job at Live Baltimore, a nonprofit that passionately promotes Baltimore City living—in spite of its fair share of urban ills.
We caught up with Milli, a resident of the Northeast Baltimore neighborhood of Arcadia, just one month into her new role as executive director of Live Baltimore. Not surprising, the Baltimore resident and mother of a 2-year-old says the transition has been fairly seamless. Milli's tireless work ethic, coupled with her passion for Baltimore City and a four-year tenure with the nonprofit, likely smoothed the way.
Live Baltimore employees must be Baltimore City residents. How long have you lived in the city?
When I moved back after college, I lived at home for two months while I looked for my first job. I would go sit in what is now Maxie's Pizza, on the corner of 32nd and Charles Street—at the time it was a Cosi—and I would study a map of Baltimore City. Shortly after, I took up residence in Mt. Washington and I've been a resident of Baltimore City ever since.
What came first, your love of the city or living in the city?
Certainly my love of Baltimore City. I've felt this draw to the city for as long as I can remember. Although I grew up in the county, I had a unique experience. Many residents have a legacy of flight from city to county. I had a different upbringing. We were farm people. We had a rural history. I am named after my great aunt. She was the one person in my family who moved into the city. She lived in Hampden her entire life. So I grew up hearing stories from her about Baltimore City as this fantastic place—a place where people came to shop, to see Vaudeville, to make it. So, at a young age, I was very interested in the city. As soon as I got my driver's license, I was here all the time. I had my sweet sixteen party at the Paper Moon Diner. I was friends with the artsy crowd. The thing was to come into the city, even in high school.
Finding a job promoting Baltimore City must have felt tailor-made for you. 
When the opportunity to work for Live Baltimore came about, it was like a dream job that I didn't know existed.
How unique is an organization like Live Baltimore, whose sole mission is to promote city living?  
It's incredibly unique. Last year, we went to the first conference of urban residential marketing organizations, which we helped put together with some friends of ours in Detroit who have been looking to develop something similar. A handful of people from other cities like Baltimore came—rust belt cities that have faced declining populations. Right now, Detroit is working to build something like Live Baltimore that encourages residential development. Having visited Detroit, I see similarities [to Baltimore] but more differences than I anticipated. I'm pleased to say we are far ahead of them in terms of our comeback story. They would say the same.
Do you find yourself promoting city living outside of office hours?
We all happily take this work home with us. In our personal lives, we're always advocating for the city. Our staff takes a lot of pride in selling people on their own neighborhoods. It's definitely my favorite topic to talk about. We've talked about having a support group for our spouses who have to hear about the city all the time.
You've worked at Live Baltimore for four years, but you only recently took the helm as executive director. Is this something you'd been working towards?
People have asked if I had my eye on this position. I answer: Unequivocally, no. I didn't anticipate my boss, Steven Gondol, leaving. I would have worked for him forever. I had a fantastic time in that role [marketing director]. But, once I got over the shock of losing the best boss I ever had, we began to have conversations about what was best for the organization and whether it made sense for me to apply for the position.
Once the idea for applying for the top job at Live Baltimore became a reality, then what?
We had a lot of family conversations. I have a 2-year-old daughter. Ultimately, I thought it was good for the organization to have continuity, and a good opportunity to step up for something I believe in. I was very surprised to have been selected.
How's your new job going?
Today is my 31st day in office. It has been a very busy, but joyous, first month. I did not realize how much I would love this job until it was mine. We're coming to the end of the fiscal year. We just had one of our major housing events. A major fundraising event is coming up. Though it's been busy, I feel very well prepared, and very well supported by my outgoing executive director. I had been intimately engaged in the inner workings of the organization. There are some pieces I hadn't touched, but fewer than I realized. I have the best director of operations. She is irreplaceable. She's made coming on board very easy. We also have a great staff and a great board. I didn't have to clean up anything.
Any plans for the organization that you can share?
I very much plan to continue in the direction we've been going. I've been part of that for the last four years; specifically, our family retention plan, which is near and dear to my heart and gives families in the city with children a way to stay here. I also think we have more opportunities to grow our employer outreach program, which offers ways to make sure employees choose to live in Baltimore City. Increasing our work with the real estate community is also forefront in my mind. And I'm looking at ways to show people more of Baltimore, which has 278 neighborhoods and 81 square miles. It's big. So I'll be taking a look at our existing programming and thinking about how we can expand it and get people into more corners of the city. I'm also really interested in taking a look at our local colleges and universities, specifically Morgan State and Coppin, and making sure we're providing adequate resources for students who want to put down roots in the city after graduation.
What are Baltimore City's greatest assets?
Our communities, our residents. It's hard to put into a quick marketing campaign message the feeling that residents have in our communities. The sense of community we have here, I believe, is unmatched. Residents are supportive of one another. They're excited to be part of a community. When people move out of the city, it's very common for them to say: I don't have a connection with people in my new neighborhood.
What's the city's best kept secret?
Most people would think of an attraction. But I think it's the fact that, as a resident, you can have it all here. I live adjacent to Herring Run Park, and across the street we have Barred Owls that roost. Every night we can hear the owls hoot. My daughter and husband take 'owl walks.' I can walk to four restaurants, a weekly farmers market that's a huge draw. Baltimore has an incredible diversity in terms of what its neighborhoods and parks look like.
In promoting Baltimore, how do you approach the topic of the violence that plagues the city?
The city certainly has an unacceptable level of violence, and it's disheartening. But when we're talking about neighborhoods and safety, we rely on available data and point to facts. We believe very strongly that safety is personal. You might have a different tolerance level than I do. We can point people to the crime map and show them what types of issues are occurring in given neighborhoods. Downtown, we have a high incidence of thefts from cars [petty change, etc.]. That doesn't make me feel unsafe. We encourage people to look at statistics and make decisions based on their comfort level. All urban areas experience crime, and while we all certainly hope for a time when Baltimore is a place that has less crime, we don't shy away from those conversations.
What other cities do you consider role models for Baltimore?
We're asked to compare ourselves to other cities quite often. I do think there are pieces we can take from a variety of cities. Philadelphia, for example, is increasing its population by 10,000 a year. I'm envious of their growth in that it's an East Coast city that's adding population. Any city that's figured out how to retain more families is a place I'm envious of.
What would you like to see for Baltimore City in 10 years?
Certainly, neighborhoods across the city seeing increased housing demands. I would love to see true, diverse multigenerational neighborhoods where there are lots of kids who are growing up in the city and going to their zoned schools with their neighbors. That is my dream—that people stay here, raise kids here.
Speaking of school options, you have a toddler. How do you feel about her school options?
My zoned school is a place I have visited. I don't know if it will be the place where my daughter ends up. I don't know what her learning needs are going to be. I'm not opposed at all to charter or private schools. My husband and I aren't leaving the city and we are confident we will find an educational option in the city that meets our daughter's needs.
 What's your favorite way to enjoy Baltimore City?
For a long time, it was to run. I have been a runner for 10 years. I love to go out early in the morning and make up my own six-mile route. You can run through so many neighborhoods in six miles. I love to run around Lake Montebello. There are turtles, birds, people. Lately I've been doing a lot of gardening. We're lucky. We have a pretty sizeable yard.
Note: This interview has been edited for length.
Celebrate! Baltimore City's 288th birthday celebration, to benefit Live Baltimore, takes place this Thursday, July 27, from 6 – 9 p.m., at the World Trade Center's Top of the World. Enjoy birthday cakes from local bakers, beers from local brewers, a signature cocktail with local spirits, lite fare and more. It's not too late to get tickets here.